Bestselling Author of Regency Historical Mysteries


The Wait is Over!

                        Greeting Everyone!
I hope you and yours are staying safe and well as we all navigate this difficult and stressful time. I hope books have helped you get through the strange summer. If you're like me, reading has been a great source of joy.
And speaking of books, Murder at Queen's Landing, my new Wrexford & Sloane mystery, is now available. (You can order it here!) And I'm delighted to  announce that it flew to #1 New Release in Historical Mysteries on Amazon! Here's the cover blurb and a link to a special sneak peek excerpt!:
The murder of a shipping clerk . . . the strange disappearance of trusted friends . . . rumors of corruption within the powerful East India Company . . . all add up to a dark mystery entangling Lady Charlotte Sloane and the Earl of Wrexford in a dangerous web of secrets and lies that will call into question how much they really know about the people they hold dear—and about each other . . .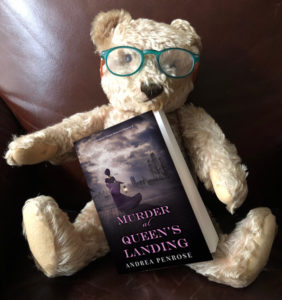 When Lady Cordelia, a brilliant mathematician, and her brother, Lord Woodbridge, disappear from London, rumors swirl concerning fraudulent bank loans and a secret consortium engaged in an illicit—and highly profitable—trading scheme that threatens the entire British economy. The incriminating evidence mounts, but for Charlotte and Wrexford, it's a question of loyalty and friendship. And so they begin a new investigation to clear the siblings' names, uncover their whereabouts, and unravel the truth behind the whispers.
 
As they delve into the murky world of banking and international arbitrage, Charlotte and Wrexford also struggle to navigate their increasingly complex feelings for each other. But the clock is ticking—a cunning mastermind has emerged . . . along with some unexpected allies—and Charlotte and Wrexford must race to prevent disasters both economic and personal as they are forced into a dangerous match of wits in an attempt to beat the enemy at his own game.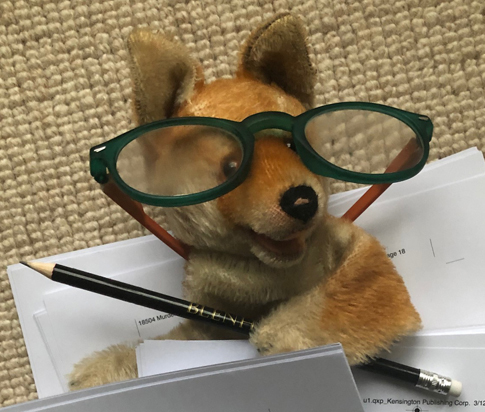 I'm working on a number of projects. My intrepid editorial assistant has been diligently helping me edit the next Wrexford & Sloane historical mystery—which has been turned in to my editor! (Stay tuned! We have a  title, but it's not final yet, so I'll reveal it, along with a sneak peek sometime later this Fall.)
And during my daily plotting walks, I've been working out the final twists for the next book in the series . . .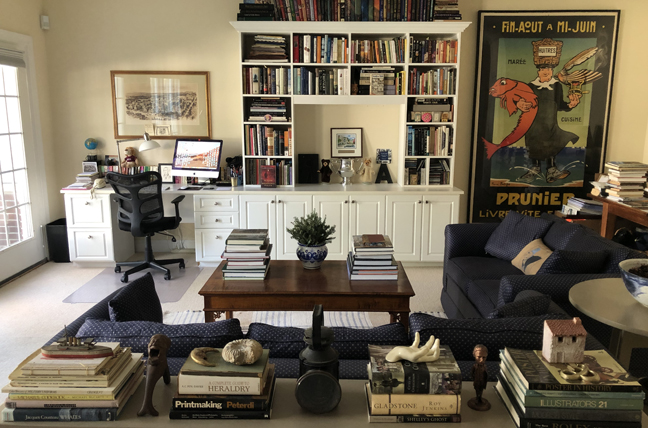 As we're all spending a LOT of time at home, I thought I'd share a little peek at what I'm up these days. Here's my writing room . . . it's much neater than usual as I can't whine about not having time to organize my research books and scribbled notes.
And during my daily plotting walks, I've been working out the final twists for the next book in the series . . .
 In other new book news, A Tangle of Serpents, my latest Lady Arianna Regency mystery and is available on all major e-retailers! It will also be released as an audiobook in a few months—as will the previous book in the series,  A Question of Numbers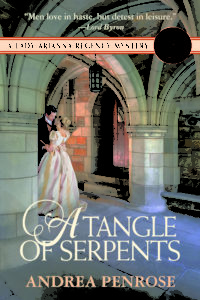 This latest adventure. the 6th of the series, takes Arianna and Saybrook to Paris—where deadly deceit and intrigue lies behind every twist and turn, threatening to destroy all they hold dear . . . unless they can match wits with a cunning villain and beat him at his own game.
With the epic victory at Waterloo behind them, Arianna and Saybrook are looking forward to a quiet summer of scholarship, far from the turmoil of war and politics.  But little do they know that an even more dangerous battle is about to test their mettle.
The shocking news that Lord Grentham, the steely minister of state security, has been accused of treason and is on the run from arrest takes them and their close circle of friends by surprise. Arianna and Saybrook don't want to believe it. Despite their fraught past with the minister, they've developed a grudging friendship . . .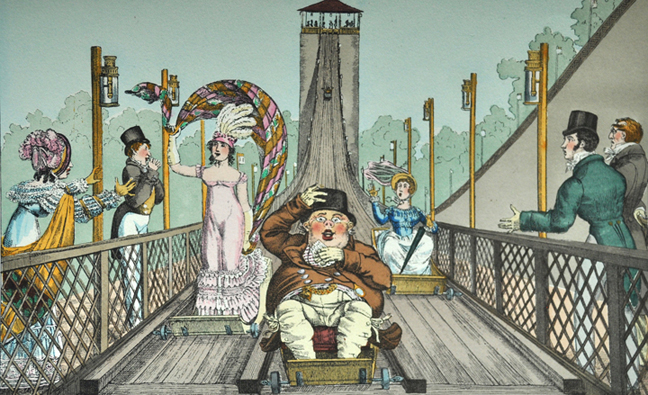 Or has Grentham deceived them? They're shown damning evidence that proves his guilt beyond question. And yet, their friend Sophia Kirtland refuses to accept it. Arianna can't help but have her doubts, too—even when a midnight encounter with the fugitive minister tells her otherwise. Saybrook is less certain, but his sense of honor compels him to join their quest to prove him innocent . . .
The trail leads to Paris, (did you know there were roller coasters in Regency Paris!) a city now seething with international intrigue. Rumors are rife; loyalties are for sale as the European powers scheme against each other. Can they uncoil the tangle of serpents and find the truth? The challenges turn even more dangerous when Arianna is forced to confront an old Russian enemy . . . and a sin from her father's past.
And so begin a wild ride through the high and lows of Paris, where tempting pleasures can turn lethal at any moment. For at every turn lies a cunning enemy who'll stop at nothing to win the battle of wits . . .
You can read an excerpt here!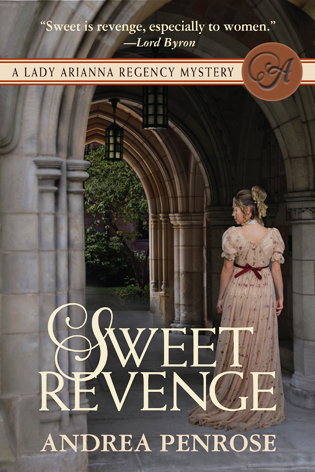 And p.s.— if you're looking for more reading entertainment to download, all of my Lady Arianna Regency mysteries are priced less than a Starbucks latte—and tickle your taste buds for far longer than 15 minutes! (Hint: there is chocolate involved in the stories!)
You can check them out here and read samples chapters. There are six novels and one novella in the series, which take you throughout England and Scotland, as well Vienna and Paris!
And more adventures will be coming!

I'm also very excited that Murder at Kensington Palace is getting such lovely reviews. You can read an excerpt here.

Criminal Element gave it a glowing review, saying "Andrea Penrose masterfully weaves the numerous plotlines of Murder at Kensington Palace into a scintillating whole."
From My Weekly Plotting . . .

I'll occasionally feature a photo here from my daily plotting walks (I have an MFA in Graphic Design, so I always have my camera with me, looking to capture a snippet of natural beauty or bit of history. Many turn out to be inspiration for my scenes!)
You can also follow me and my plotting walks on Instagram
I'll also be posting a snippet each week from current WIPs, so be sure to check in often and take a peek! 
Snippet from the daily plotting walk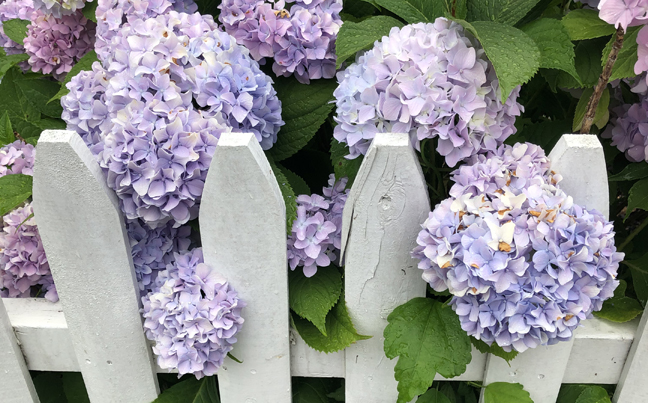 The picket fence crowd looks to be in a garrulous mood this morning. I wonder what they're discussing?

Snippet from the current WIP

The west door of the conservatory was unlocked, allowing entrance into the section housing conifer specimens from the northeastern states of America. The pleasant fragrances of pine and balsam, however, did little to settle her unease. Spotting a trail of lantern lights through the needled branches, Lady Charlotte Sloane hurried down the path to her right.
    After passing through several deserted galleries, she heard voices up from ahead.
    Wrexford's was one of them.
    Charlotte hesitated for a moment, then decided to plunge on. She might as well kill two birds with one stone and learn what bumblebroths were now bubbling around her eccentric family.
    Wrexford looked around at the feathery sound of her slippers moving over the dark stone. She didn't recognize his companion.
    "Has Hawk gotten into some mischief—" she began, only to stop short on spotting the corpse sprawled on the tiles.
     Her throat tightened. "Dear God." She was no stranger to dead bodies. There was no need to inquire whether the poor fellow was still alive. "What happened?"
    "We are still debating the exact cause of death, my dear," replied Wrexford . . .
—the next  Wrexford & Sloane mystery, coming in September 2021
I was  lucky enough to visit Kensington Palace during this past summer . . . You can read more about this fascinating royal residence by checking out the story under the "Diversions" tab on the navigation bar.
The Inspiration Behind the
Wrexford & Sloane Series
I confess, given that my academic expertise in science ended in 9th grade biology class (you know, the one with formaldehyde, dead frogs and very sharp knifes!) So it might strike you as rather strange that science plays a big role in the plot of both Murder on Black Swan Lane and Murder at Half Moon Gate, the first two books of my  Regency-set mystery series. (And I'm delighted to announce that I've just signed to do two more books in the series, so stay tuned!)
I have an art background, which may seem like the polar opposite from the world of laboratories, microscopes and bubbling chemicals. I thought the same thing until I read a marvelous book called the Age of Wonder by Richard Holmes. In it, he talks about how during the Regency era, the artists and scientists all thought of themselves as kindred souls. Exploration and discovery required imagination and creative thinking—painters, poets, chemists, astronomers—they all pushed themselves to think outside the box.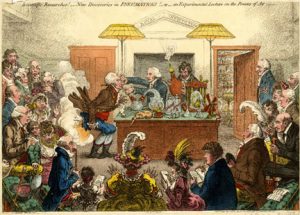 Hmmm, I thought . . . these are just the same qualities required to unravel diabolical mysteries. So it suddenly struck me that having a scientist and an artist could be a really fun combination. In the Earl of Wrexford and Charlotte Sloane, I've sought to create two lead characters who embody the intellectual curiosity—and gritty courage—of the times. They are opposites: a brooding aristocrat whose extraordinary mind runs on the rational new principles of scientific inquiry, paired with a struggling artist whose innate cleverness and intuition are the keys to her survival. Forced to work together, Wrexford and Charlotte find they make a formidable team, despite their differences. (Ah, but as science tells us, opposites often attract!)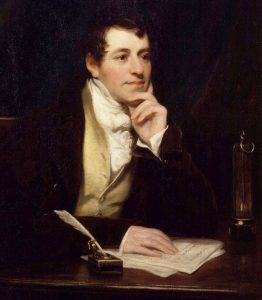 Okay, now I have a second confession to make—I may not be a science expert, but I'm a total Regency history geek. So it was great fun researching science during the era. Like in our own times, new discoveries and new technology were changing society. The top scientists were the hot celebrities. All the trendy people flocked to heard the public lectures at the Royal Institution, the leading scientific society in London. And yes, there were science groupies! The charismatic Humphry Davy (he's pretty dishy, isn't he?), the most famous chemist of the day, routinely had love letters and invitations for private hanky-panky—often wrapped in frilly undergarments—delivered backstage! (There are several scenes in my book set at the Royal Institution—I hope they will forgive me for creating intrigue and skullduggery within their hallowed halls!) You can read more about some of the real-life scientists of the Regency in the "Diversions" section. Just click here.
Now, on to more Regency goodies …

I also hope you'll enjoy doing more exploring in the Diversions section here, which features some fun background on the Regency
and some of the people and places who appear in my books.
Just a few other things on logistics: The BLOG button in the social media icons will connect you to The Word Wenches, where Mary Jo Putney, Joanna Bourne, Susanna Kearsley, Patricia Rice, Anne Gracie, Nicola Cornick, Susan Fraser King and I blog about books, history, the craft of writing, and just about anything else you can think of! And in the BLOG section here on this website I'll be musing occasionally on Writing and . . . any other Quirk of Life that strikes my fancy.

Privacy Statement
This website is in compliance with new EU policies. Please know that it does not collect any data on visitors. If you subscribe to my newsletter, you will receive an opt-in message to make sure you wish to subscribe. Your e-mail will then be stored with a listserver that promises compliances with all the latest regulations. It will never be shared with anyone else, and will only be used to send you my newsletters to alert you to new book releases, author news and special offers.
Only your e-mail will be stored. You may unsubscribe at any time, and your e-mail will be permanently deleted.