USA Today Bestselling Author of Regency Historical Mysteries


I'm thrilled to announce that
Murder at the Royal Botanic Gardens
has hit the USA TODAY Bestseller List!
(My editorial assistants are taking all the credit, which they richly deserve for all the chocolate bars they feed me when writing isn't going well.)
A huge thank you to my wonderful editor, Wendy McCurdy and agent, Kevan Lyon! You guys are the best!
It's now on the bookshelves of all major retailers! As always, the Kensington art department has done a fabulous cover!
Publishers Weekly gave it a lovely shout-out: "Swashbuckling…Roars to an exciting climax, followed by a sweet denouement. Historical fans will have fun."
Here's the cover blurb, and you can read an excerpt here!
The upcoming marriage of the Earl of Wrexford and Lady Charlotte Sloane promises to be a highlight of the season, if they can first untangle—and survive—a web of intrigue and murder involving the most brilliant scientific minds in Regency London . . .
One advantage of being caught up in a whirl of dress fittings and decisions about flower arrangements and breakfast menus is that Charlotte Sloane has little time for any pre-wedding qualms. Her love for Wrexford isn't in question. But will being a wife—and a Countess—
make it difficult for her to maintain
her independence—not to mention, her secret identity as famed satirical artist A.J. Quill? Despite those concerns, there are soon even more urgent matters to attend to during Charlotte and Wrexford's first public outing as an engaged couple . . .
At a symposium at the Royal Botanic Gardens, a visiting botanist suffers a fatal collapse. The traces of white powder near his mouth reveal the dark truth—he was murdered. Drawn into the investigation, Charlotte and the Earl learn of the victim's involvement in a momentous medical discovery. With fame and immense fortune at stake, there's no shortage of suspects, including some whose ruthlessness is already known. But neither Charlotte nor her husband-to-be can realize how close the danger is about to get—or to what lengths this villain is prepared to go . . .
I recently joined with the fabulous fellow historical mystery authors Anna Lee Huber and Alyssa Maxwell to dish on our new books and the craft of writing, You can see the video interview here on YouTube!
And Team Penrose has been busy on other projects!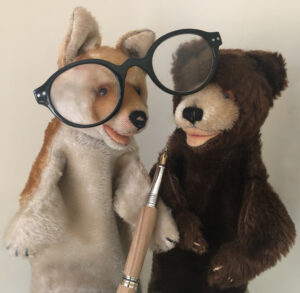 My editorial assistants and I have been madly busy over the past few months and have lots of special book news and insider deals and offerings to report!
First of all, to celebrate the release of Murder at the Royal Botanic Gardens, the latest Wrexford & Sloane mystery, I'm running a special e-book promotion on Murder at Queen's Landing! For the first time ever, it's on sale—and for the very special price of $1.99 (But you better grab it
fast—the sale ends on October 3rd.)
Here's the cover blurb and a link to an excerpt!:
The murder of a shipping clerk . . . the strange disappearance of trusted friends . . . rumors of corruption within the powerful East India Company . . . all add up to a dark mystery entangling Lady Charlotte Sloane and the Earl of Wrexford in a dangerous web of secrets and lies that will call into question how much they really know about the people they hold dear—and about each other . . .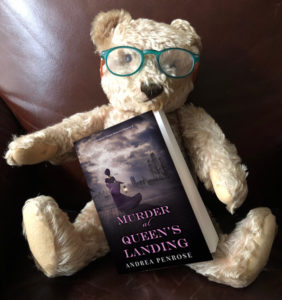 When Lady Cordelia, a brilliant mathematician, and her brother, Lord Woodbridge, disappear from London, rumors swirl concerning fraudulent bank loans and a secret consortium engaged in an illicit—and highly profitable—trading scheme that threatens the entire British economy. The incriminating evidence mounts, but for Charlotte and Wrexford, it's a question of loyalty and friendship. And so they begin a new investigation to clear the siblings' names, uncover their whereabouts, and unravel the truth behind the whispers.
 
As they delve into the murky world of banking and international arbitrage, Charlotte and Wrexford also struggle to navigate their increasingly complex feelings for each other. But the clock is ticking—a cunning mastermind has emerged . . . along with some unexpected allies—and Charlotte and Wrexford must race to prevent disasters both economic and personal as they are forced into a dangerous match of wits in an attempt to beat the enemy at his own game.
As for other news . . .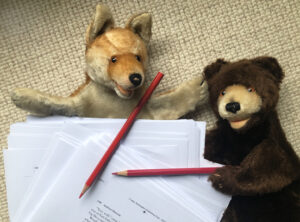 The series as a whole has been garnering kudos throughout the book world, including this wonderful review from  The New York Public Library: "[Penrose] mixes well-thought out mysteries, early forensic science, great details of the era and a slow burning attraction creating a compulsive read." 
I'm also delighted to announce that it has been included in the New York Public Library's list of mystery series to get you through any crisis!
Secondly, for all those of you who have been writing and asking about future books in the series, I'm thrilled to announce that I've just signed a new contract to continue the adventures of Wrexford and Charlotte (and the Weasels, of course!) They—along with their family of friends—will be solving mysteries for four more books! So stay tuned! (I've just turned in the manuscript for Book 6, which will hit the shelves in September 2022. Stay tuned for a title and cover reveal!)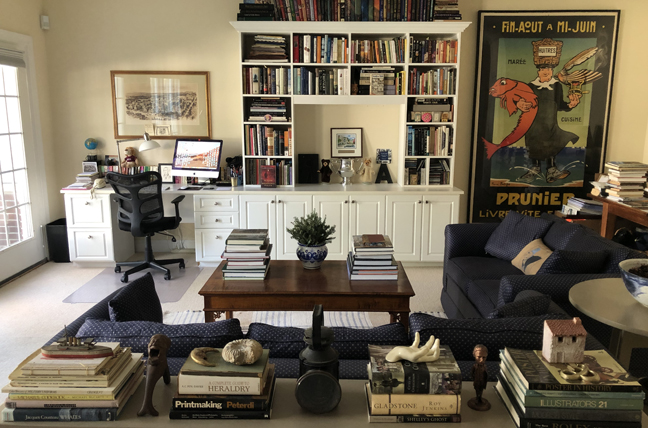 As we're all spending a LOT of time at home, I thought I'd share a little peek at what I'm up these days. Here's my writing room . . . it's much neater than usual as I can't whine about not having time to organize my research books and scribbled notes.
And during my daily plotting walks, I've been working out the final twists for the next book in the series . . .
In other new book news, look for a new Lady Arianna Regency mystery at the end of the year. I'm still playing with titles, but here's a preliminary cover design! A full synopsis will be coming soon, but just as a teaser, the mystery takes Lady Arianna and Saybrook to St. Petersburg in Russia!
Meanwhile, A Tangle of Serpents, my current Lady Arianna Regency mystery is available on all major e-retailers! It's also available as an audiobook—as is the previous book in the series,  A Question of Numbers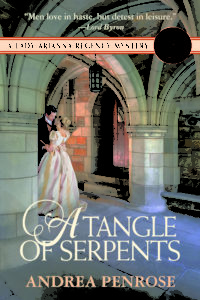 This adventure, the 6th of the series, takes Arianna and Saybrook to Paris—where deadly deceit and intrigue lies behind every twist and turn, threatening to destroy all they hold dear . . . unless they can match wits with a cunning villain and beat him at his own game.
With the epic victory at Waterloo behind them, Arianna and Saybrook are looking forward to a quiet summer of scholarship, far from the turmoil of war and politics.  But little do they know that an even more dangerous battle is about to test their mettle.
The shocking news that Lord Grentham, the steely minister of state security, has been accused of treason and is on the run from arrest takes them and their close circle of friends by surprise. Arianna and Saybrook don't want to believe it. Despite their fraught past with the minister, they've developed a grudging friendship . . .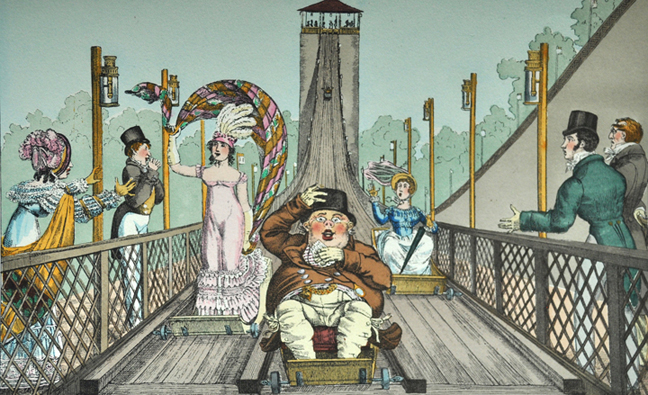 Or has Grentham deceived them? They're shown damning evidence that proves his guilt beyond question. And yet, their friend Sophia Kirtland refuses to accept it. Arianna can't help but have her doubts, too—even when a midnight encounter with the fugitive minister tells her otherwise. Saybrook is less certain, but his sense of honor compels him to join their quest to prove him innocent . . .
The trail leads to Paris, (did you know there were roller coasters in Regency Paris!) a city now seething with international intrigue. Rumors are rife; loyalties are for sale as the European powers scheme against each other. Can they uncoil the tangle of serpents and find the truth? The challenges turn even more dangerous when Arianna is forced to confront an old Russian enemy . . . and a sin from her father's past.
And so begin a wild ride through the high and lows of Paris, where tempting pleasures can turn lethal at any moment. For at every turn lies a cunning enemy who'll stop at nothing to win the battle of wits . . .
You can read an excerpt here!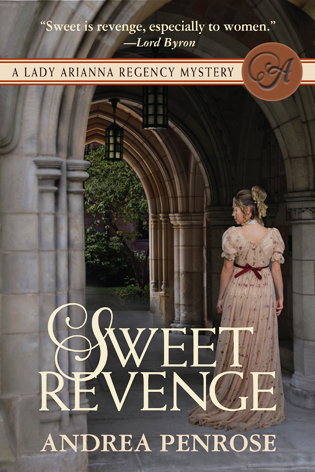 And p.s.— if you're looking for more reading entertainment to download, all of my Lady Arianna Regency mysteries are priced less than a Starbucks latte—and tickle your taste buds for far longer than 15 minutes! (Hint: there is chocolate involved in the stories!)
You can check them out here and read samples chapters. There are six novels and one novella in the series, which take you throughout England and Scotland, as well Vienna and Paris!
And more adventures will be coming!

From My Weekly Plotting . . .

I'll occasionally feature a photo here from my daily plotting walks (I have an MFA in Graphic Design, so I always have my camera with me, looking to capture a snippet of natural beauty or bit of history. Many turn out to be inspiration for my scenes!)
You can also follow me and my plotting walks on Instagram
I'll also be posting a snippet each week from current WIPs, so be sure to check in often and take a peek! 
Snippet from the daily plotting walk

The lingering summer sunsets allow my plotting walks meander late into the evening, giving me more time in which to unravel all the knotty twists and turns that my characters have taken during the writing day!

Snippet from the current WIP

At the sound of a loud splash, Wrexford broke into a run. To his knowledge, Raven and Hawk didn't know how to swim.
   As he burst free of the trees he caught a glimpse of the moon-dappled Serpentine up ahead, but the flitting shadows around the lake's edge made it impossible to discern what was going on.
   Where were they?
   "Raven!" he shouted, feeling as if his heart was about to leap into his throat. "Hawk!"
   "Here, sir!" The muffled answer floated up from the terraced stone embankment edging the end of the lake.
   As the earl scrambled over the rough terrain to join the boys, he spotted the big hound swimming through the murky water, dark ripples trailing in his wake.
   "What the devil—"
   "S-something spooked Harper," explained Hawk. "His hackles rose, then, before I could grab him, he let out a bark and leaped into the lake. I—"
   "Holy Hell—there's something floating out there," said Raven in a tight voice. "It looks like . . ."
   Wrexford saw it, too. "Get back, lads," he ordered. "I want you both well away from the water's edge."
   The edge of alarm in his voice must have warned them not to argue. Raven took his brother's hand and quickly led him off to the grassy verge.
   Looking back to Harper, Wrexford saw the hound had taken hold of the dark shape with his teeth and was laboring to tow it back to shore. The earl glanced around. To his left, the stone embankment ended, giving way to a bank of earth, rocks and grass.
   "Harper, Harper!" Waving his arms, he picked his way to a gently sloping patch of ground.
   As the hound paddled closer, Wrexford's worst fears were confirmed.
   A body. And by the look of the injuries to the poor soul's head, there was little chance of him being alive . . .
—Murder at the Serpentine Bridge, coming in September 2022
The Inspiration Behind the
Wrexford & Sloane Series
I confess, given that my academic expertise in science ended in 9th grade biology class (you know, the one with formaldehyde, dead frogs and very sharp knifes!) So it might strike you as rather strange that science plays a big role in the plot of both Murder on Black Swan Lane and Murder at Half Moon Gate, the first two books of my  Regency-set mystery series. (And I'm delighted to announce that I've just signed to do two more books in the series, so stay tuned!)
I have an art background, which may seem like the polar opposite from the world of laboratories, microscopes and bubbling chemicals. I thought the same thing until I read a marvelous book called the Age of Wonder by Richard Holmes. In it, he talks about how during the Regency era, the artists and scientists all thought of themselves as kindred souls. Exploration and discovery required imagination and creative thinking—painters, poets, chemists, astronomers—they all pushed themselves to think outside the box.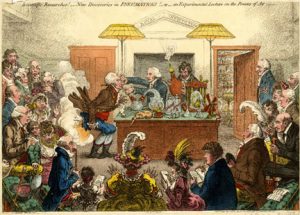 Hmmm, I thought . . . these are just the same qualities required to unravel diabolical mysteries. So it suddenly struck me that having a scientist and an artist could be a really fun combination. In the Earl of Wrexford and Charlotte Sloane, I've sought to create two lead characters who embody the intellectual curiosity—and gritty courage—of the times. They are opposites: a brooding aristocrat whose extraordinary mind runs on the rational new principles of scientific inquiry, paired with a struggling artist whose innate cleverness and intuition are the keys to her survival. Forced to work together, Wrexford and Charlotte find they make a formidable team, despite their differences. (Ah, but as science tells us, opposites often attract!)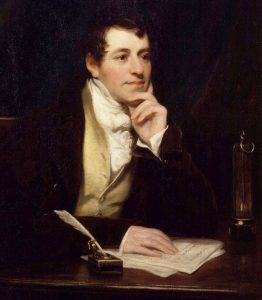 Okay, now I have a second confession to make—I may not be a science expert, but I'm a total Regency history geek. So it was great fun researching science during the era. Like in our own times, new discoveries and new technology were changing society. The top scientists were the hot celebrities. All the trendy people flocked to heard the public lectures at the Royal Institution, the leading scientific society in London. And yes, there were science groupies! The charismatic Humphry Davy (he's pretty dishy, isn't he?), the most famous chemist of the day, routinely had love letters and invitations for private hanky-panky—often wrapped in frilly undergarments—delivered backstage! (There are several scenes in my book set at the Royal Institution—I hope they will forgive me for creating intrigue and skullduggery within their hallowed halls!) You can read more about some of the real-life scientists of the Regency in the "Diversions" section. Just click here.
Now, on to more Regency goodies …

I also hope you'll enjoy doing more exploring in the Diversions section here, which features some fun background on the Regency
and some of the people and places who appear in my books.
Just a few other things on logistics: The BLOG button in the social media icons will connect you to The Word Wenches, where Mary Jo Putney, Joanna Bourne, Christina Courtenay, Patricia Rice, Anne Gracie, Nicola Cornick, Susan Fraser King and I blog about books, history, the craft of writing, and just about anything else you can think of! And in the BLOG section here on this website I'll be musing occasionally on Writing and . . . any other Quirk of Life that strikes my fancy.

Privacy Statement
This website is in compliance with new EU policies. Please know that it does not collect any data on visitors. If you subscribe to my newsletter, you will receive an opt-in message to make sure you wish to subscribe. Your e-mail will then be stored with a listserver that promises compliances with all the latest regulations. It will never be shared with anyone else, and will only be used to send you my newsletters to alert you to new book releases, author news and special offers.
Only your e-mail will be stored. You may unsubscribe at any time, and your e-mail will be permanently deleted.