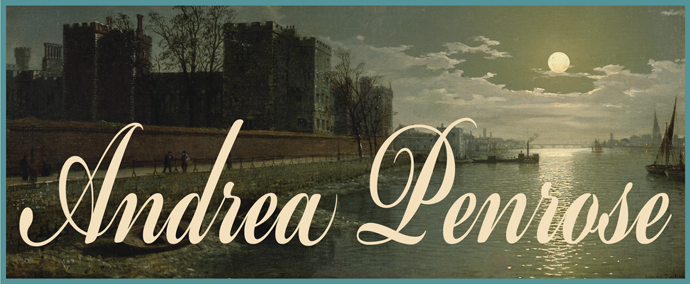 Bestselling Author of Regency Historical Mysteries

Cover Reveal!

I'm excited to announce that I've just received the cover for
Book Two in the Wrexford & Sloane series!
MURDER AT HALF MOON GATE will be out on March 27th, 2018!
You can read an excerpt here!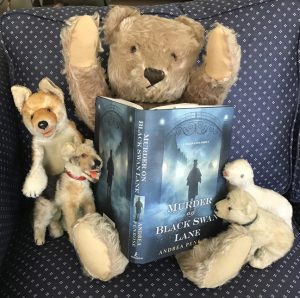 And of course, MURDER ON BLACK SWAN LANE is now available!
All About Romance calls it " . . . perfect for anyone in the mood
for a well-written historical mystery."
To read an excerpt click here!
Advance readers have this to say:

"Thoroughly enjoyable . . . with sharp, engaging characters, rich period detail, and a compellingly twisty plot, Andrea Penrose delivers a winner . . . fans of C.S. Harris and Kate Ross will be rooting for Charlotte Sloane and the Earl of Wrexford. Devilishly good fun!"
—Deanna Raybourn, New York Times bestselling author

"Fans of C.S. Harris take note! In this new Regency-set mystery series,
the artist Charlotte Sloane and the scientist Earl of Wrexford are the perfect mismatched pair of sleuths. A riveting ride through Regency London, from the slums of St. Giles
to the mansions of Mayfair."
—Lauren Willig, New York Times bestselling author
"A wonderfully engaging Regency mystery, with a most determined heroine and an engaging pair of street urchins at her side. Historical chemistry meets alchemy, and only a nonchalant nobleman can help solve the murder. A delight of a book."
—Joanna Bourne, award-winning author
I'll be posting more during the upcoming weeks about the inspiration behind the series, as well as a fun look at how the cover was created . . .
But for now, I'll just dish on why I find the Regency such a fabulously interesting time and place. It was a world aswirl in silks, seduction and the intrigue of the Napoleonic Wars. Radical new ideas were clashing with the conventional thinking of the past. Science and technology were changing the world with frightening speed. As a result, people were challenging and changing the fundamentals of their society.
In so many ways, it was the birth of the modern world, and for me, its challenges, its characters and its conflicts have such relevance to our own times. (And hey, who can resist men in breeches and boots!)
In MURDER ON BLACK SWAN LANE, I've sought to create two lead characters who embody the intellectual curiosity—and gritty courage—of the times. They are opposites: a brooding aristocrat whose extraordinary mind runs on the rational new principles of scientific inquiry, paired with a struggling artist whose innate cleverness and intuition are the keys to her survival. Forced to work together, the Earl of Wrexford and Charlotte Sloane find they make a formidable team, despite their differences. (Ah, but as science tells us, opposites often attract!)
They'll be setting off on some devilishly daunting adventures. So lace up your corsets, tweak the tails of your cravat and get ready to enter a world of glittering ballrooms, dangerous alleyways and deadly intrigues . . .
(And please don't forget to sign up for my newsletter so you'll be sure to receive updates on other special promos and contests, as well as subscriber-only sneak peeks and insider information!)
The New e-book editions of
The Lady Arianna Regency Mystery Series
are now available!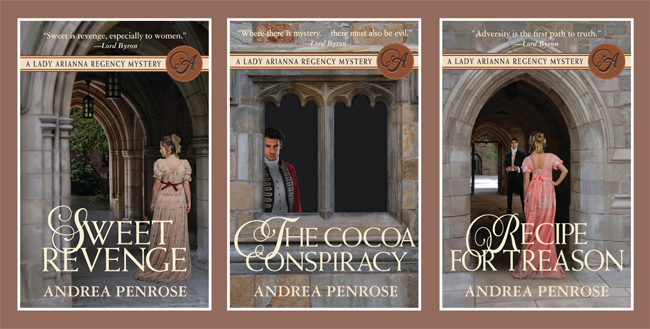 Buy Sweet Revenge        Buy The Cocoa Conspiracy     Buy Recipe For Treason
To celebrate the New Year, I've released spiffy new e-book editions of The Lady Arianna Regency Mystery series—with special new covers and a special new low price!
"Andrea Penrose bursts into the world of historical mysteries with a book that will delight readers….I can't wait to get my hands on the next installment!"
—Tasha Alexander, author of "Dangerous to Know"
"A mouthwatering combination of suspense and chocolate!"
—Lauren Willig, author of "The Secret History of the Pink Carnation"
"A mysterious lady, bent on revenge, and a mystery-solving Lord will take you on a thrilling ride through Regency England in this smashing debut novel."
—Victoria Thompson, author of "Murder on Sisters' Row"
If you enjoy a strong, clever heroine matched with a dashingly brooding hero, I hope you'll give them a try! 
Now, on to more Regency goodies . . .
I also hope you'll enjoy exploring the Diversions section here, which features some fun background on the Regency and some of the people and places who appear in my books.
Just a few other things on logistics: The BLOG button in the social media icons will connect you to The Word Wenches, where Mary Jo Putney, Joanna Bourne, Patricia Rice, Anne Gracie, Nicola Cornick, Susan Fraser King and I blog about books, history, the craft of writing, and just about anything else you can think of! And in the BLOG section here on this website I'll be musing occasionally on Writing and . . . any other Quirk of Life that strikes my fancy.

And lastly, you can click on the links in the sidebar to connect to my other alter egos! I write traditional Regency romances under the pen name of Andrea Pickens. And I write Regency historical romances—which have more spice than the trads—as Cara Elliott.

Have you ever wondered where authors get the inspiration for their heroes and heroines? Well, I have an art background, so I'm a very visual person and love to look at historical paintings to help me picture my characters. You can see other seductive men and alluring women on my Pinterest boards.
Please check back often and say hi!